Praslin, the second-largest island of Seychelles, is about one hour away from Mahé by boat. Visitors can visit the Vallée de Mai Nature Reserve, the only place in the world where the giant coco de mer palm that still grows in its natural state. Walk along the well-kept paths of this jungle, listen to the trilling of the rare black parrot, and travel back in time to what looks like the original "Garden of Eden."
This tour includes a visit to the famous beach, Anse Lazio, before a 30-minute crossing to La Digue, where you will have a good chance of dolphin sightings. The timeless atmosphere of La Digue will surprise its visitors: the comfort of the 21st century combines with the tranquility of the past.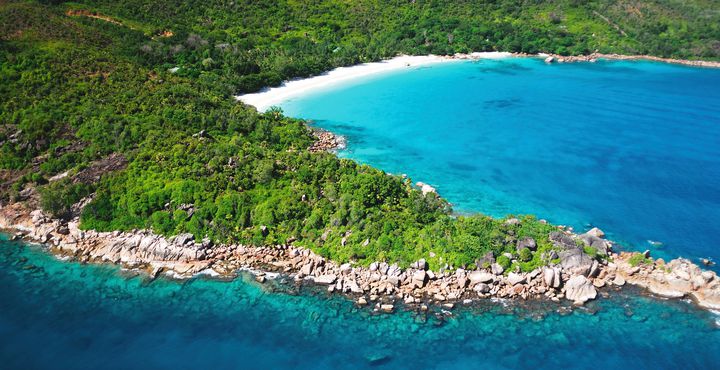 After that, a pick-up truck will transfer you from the pier to L'Union Estate, a National Heritage Site of La Digue. Its natural beauty and well-preserved colonial buildings will take your breath away. Continue the tour to the Copra Mill, where coconut production takes place. You will also see the giant tortoise sanctuary and the colonial manor house, where they shot the film "Goodbye Emmanuelle." The tour of La Digue continues with a "lorry," an open-sided truck with a canopy. Stop at one of the most impressive beaches in the world, the Anse Source d'Argent, and admire the remarkable rock formations.
This 11-hour excursion is an ideal way to see the highlights of both islands in one day and is perfect for guests staying on Mahé and the surrounding islands.